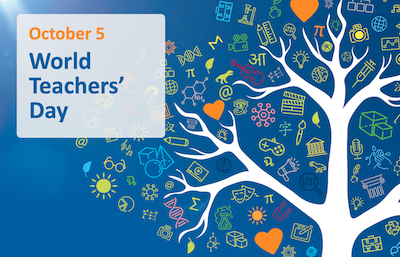 Published:
Oct 4, 2021
On October 5, 2021, the Richmond School District will commemorate and celebrate the numerous contributions that teachers make to public education. As always, teachers continue to display their unwavering commitment to doing what's best for their students. This has never been more apparent than during the pandemic.
Richmond teachers have adapted to new teaching methods, found innovative ways to interact with their students and families, and demonstrated a degree of caring and devotion that has made a tremendous difference in Richmond students' lives.
In 2021 World Teachers' Day will focus on the support teachers need to fully contribute to the recovery process under the theme "Teachers at the heart of education recovery".   
The day serves as an opportunity to honour the teaching profession around the world, reflect on accomplishments, and highlight the contributions of teachers, who are at the forefront of efforts to realize the global education target of leaving no one behind.
On behalf of the senior executive staff and the Richmond Board of Education, I would like to express my gratitude to all teachers who contribute to making the Richmond School District the best place to learn and lead. I encourage everyone to take some time today to thank the educators in their lives and let them know how much they have influenced you and your life.
Sincerely,
Scott Robinson
Superintendent of Schools