Published: Dec 16, 2021
Around the district is a monthly update that includes a collection of stories from Richmond schools. These stories highlight Richmond's vibrant learning community which fosters student engagement, creativity, and well-being in inclusive learning environments.
Learning on a Snow Day
As snow recently fell in Richmond, many of our staff and students embraced this opportunity to engage in learning inside and outside of the classroom. Students at Gilmore Elementary went outside to search for animal tracks in the fresh snow and talked about how to use tracking field guides to identify different animals. A few blocks away, students at Diefenbaker were encouraged to make snowflakes and improve their understanding of snowflake shapes.
Blair Elementary – Winter Traditions
Students at Blair Elementary recently spent time learning about the variety of winter traditions that are celebrated within their school community. Students brought in advent calendars, menorahs, family games and various holiday recipes. They shared what was meaningful to them and learnt a great deal about each other's culture and family traditions. Afterwards, a photo wall was created to celebrate everything that the students had learnt.
Byng and Blundell Elementary – The Fraser River Story Workshop
Students at Byng and Blundell Elementary recently engaged in a story workshop about the Fraser River. They read books, studied animals, and made drawings to visualize their thoughts. They also explored different ideas and considered how sound and time could change their stories. The workshop allowed each student to tell their own unique story at their own learning level.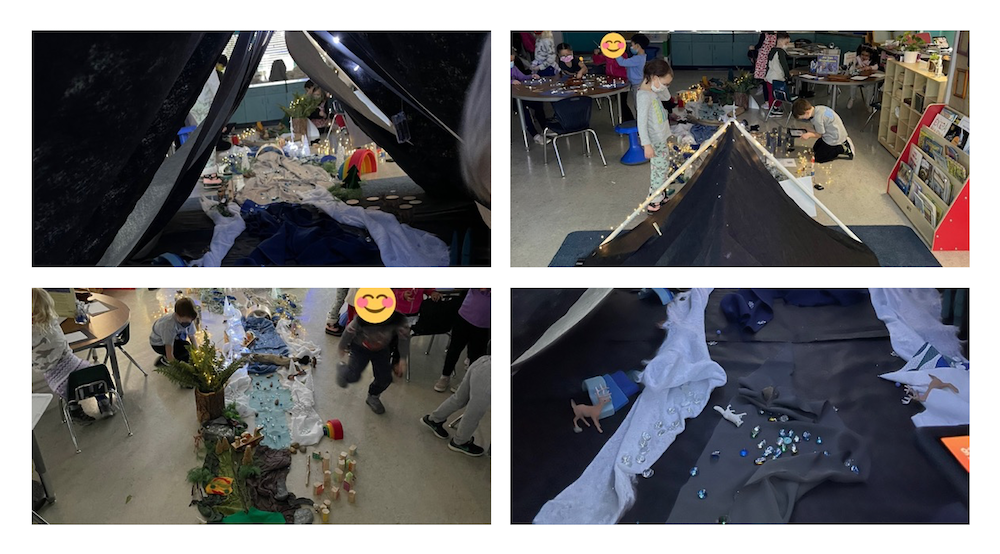 The collaboration between the teacher consultant, the teacher librarian and the enrolling teacher was a powerful example of supporting professional development, risk taking and building professional capacity.
Anderson Elementary – Mushroom Project
Students at Anderson Elementary spent time with a local artist and mycologist to learn about mushrooms, their fungal properties, and their various methods of cultivation. Mushrooms were then planted outside in the school garden so that students could document their growth. The students have had a great time learning from this hands-on project, and they are very proud of their accomplishments.
Grauer Elementary – Learning About Terry Fox
Students at Grauer Elementary recently participated in a classroom discussion about Terry Fox, and the influence he has had on the development of our Canadian identity. Students reviewed the Terry Fox story and discovered why it has become such a significant part of our history. They then used their imagination to brainstorm and identify keywords that represented the contributions Terry Fox has made to Canada. The class voted for their top ten keywords and then created an art installment that symbolizes the importance of Terry Fox's legacy to our country.
Walter Lee Elementary – Numeracy Education in our Community
Students from Walter Lee Elementary recently participated in a numeracy project. Students recalled, estimated, and visualized how much water recently flooded their school's fields and playgrounds. They then used critical thinking and calculations to guess how much water there might have been. They also discussed ways that they could help to prevent school flooding. This authentic numeracy task allowed students to use mathematics to think about an issue that is important in our community and the world.
Burnett Secondary –3D Printer Cookie Cutter
Burnett Secondary students are looking forward to baking holiday cookies with their new cookie cutters - which they designed and printed using the school's 3D printers. This is a great example of how students throughout the district are using 3D printers to experiment with new ideas, while expanding and growing their creativity.
Bridge Elementary - Connecting Bravery and Math
Students at Bridge Elementary have been working on their mathematic skills each week during their DREAM time (Drop Everything And Math Time). In a recent lesson, students were encouraged to read the book, What Does it Mean to be Brave? by Kelly Shuto. They then shared ideas about how they can be brave while playing math games. This exercise was a great way to connect literacy and math, while also teaching students how bravery can help them learn and achieve.
Cambie Secondary - 12 Days of Winter Wellness
12 Days of Winter Wellness at Cambie Secondary helps to raise awareness, increase understanding, and reduce stigma around mental health and wellbeing. The activity kicked off on Wellness Wednesday with students identifying their Wellness Champion - a person who inspires them to lead a healthy life, or to be their best self. Over the course of the 12 days, students and staff share wellness tips every day to remind one another that they can practice habits that promote wellbeing and mental health.