Published: Dec 2, 2021
Around the district is a monthly update that includes a collection of stories from Richmond schools. These stories highlight Richmond's vibrant learning community which fosters student engagement, creativity, and well-being in inclusive learning environments.
Remembrance Day School Activities   
In honor of Remembrance Day, schools throughout the district hosted celebrations and learning activities to commemorate this significant day. Our schools held special assemblies and found ways to recognize all those who have served and are still serving. Students made collaborative art displays, reflecting on the contributions and sacrifices of Indigenous Veterans, wrote letters to veterans, and shared their thoughts on hope and peace.
Byng Elementary – Peace Education
Peace education plays a great role in students' social learning. In November, students at Byng Elementary took a moment to reflect on what peace means to them. Students first read the book Peace by Baptiste and Miranda Paul, and learned the importance of forgiving and moving on after expressing differences. Afterwards, the teacher provided letter tiles to students and invited them to express what peace means to them in a word or a short sentence. Students came up with the most profound ideas and these ideas were later shown in a slideshow for sharing across the school.
New Art Displays at the School board Office    
Since last year, the school board office has been filled with a wonderful collection of student art. These amazing art pieces provide a welcoming look to the building, provide staff and visitors with a connection to our schools, and represent great examples of our district's arts education.
3D Printers in Our Schools
After several years of effort, more than 35 school libraries in our district now have a 3D printer. These printers have been running in after-school clubs, student-led clubs, and through collaboration time in classes. 3D printers integrate technology into the library and help students build practical skills such as problem-solving, coding and design.
Michell Elementary - Celebrate Diwali
Students at Mitchell Elementary recently celebrated Diwali (Festival of Lights) by creating Rangolis in their class. Rangolis are a patterned art form that is placed at the threshold of the main entrance of the home to welcome good luck on the day of Diwali. Students made connections to their understanding of mandalas and integrated their learning of patterning to create two types of Rangolis, one with patterned blocks and the other with bright coloured markers. These activities gave students an understanding of how patterns are used as decor to celebrate a special holiday.
McMath Secondary –Halloween Candy Give Back
The leadership students at McMath Secondary recently were busy collecting candy from 16 elementary schools in our district, hoping to make hundreds of candy bags to provide to those in need on Vancouver's Downtown Eastside. The school has been supporting the charity program for more than 20 years. Through this initiative, students gain a better understanding of how many children are less fortunate, and how a small gesture can help make a difference!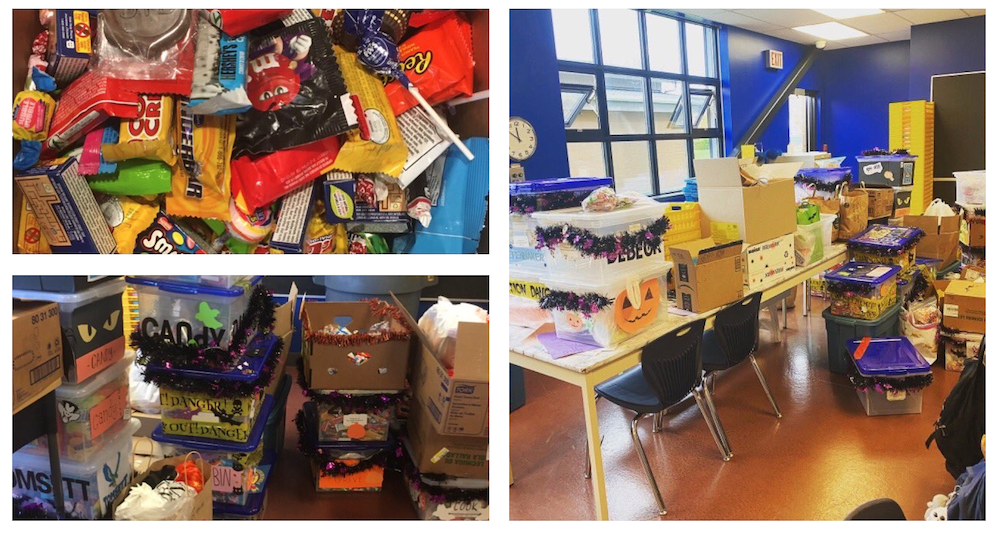 Students Athletic Achievements
Our secondary students recently achieved excellent results at a number of recent sport competitions. Congratulations to the McRoberts Senior Girls volleyball team and Steveston-London senior Boys volleyball team for winning the Richmond City Championship trophies. Congratulations to the Grade 9 Girls team and Senior Girls team at McMath secondary for winning silver at the South Fraser Volleyball Commission Championships. Also, congratulations to the McNair Senior Boys' Soccer Team, for bringing home the much-deserved Richmond Cup. All of our students have made Richmond proud!
Blair Elementary – Social Emotional Learning
This school year, students at Blair Elementary have been focusing on learning how to build community and develop friendships in the classroom. A variety of activities were introduced to increase students' self-awareness about how they are feeling during the school day. Students have been encouraged to use Mood Meters to recognize their mood, and to use strategies to move from one mood to another. Students have also been reading books such as Ishi by Akiko Yabuki and All Are Welcome by Alexandra Penfold. These books focus on inclusion and empathy, which gave examples of how to care for oneself, others and place.
Augmentative and Alternative Communication Day Party for Students
On November 2, students from around the district who use AAC (augmentative and alternative communication) came together for the annual AAC Day Party. Students made crafts, played games, and enjoyed music, all the while interacting with other students who also communicate using AAC. 
AAC day allows students to meet others who talk and communicate like they do. Lasting friendships are formed through opportunities such as this, and students find belonging outside of their direct school communities. 
Blundell Elementary – Inquiry-based Learning
The recent heavy rains and strong winds have led to flooding and fallen trees in parts of Metro Vancouver. Students at Blundell Elementary were invited to make an authentic inquiry of what happened to the fallen tree in the school's field. During the observation, students were encouraged to take photos and create digital stories to share their learning about the atmospheric river and the consequences of storms and flooding.
Kidd Elementary – Student Game Bags
Students at Kidd Elementary recently started a project of making game bags on Maker Friday. This project allowed students to explore a variety of skills including character design, drawing, sewing and new technologies. Students reflected on the process of creating their own characters and shared their feelings about learning something new and challenging. Through this project students learned how to pursue their ideas and explore possibilities.