Published: Sep 23, 2021
Around the district is a monthly update that includes a collection of stories from Richmond schools. These stories highlight Richmond's vibrant learning community which fosters student engagement, creativity, and well-being in inclusive learning environments.
Back to School
On September 7, schools around our district welcomed students back for the 2021-22 school year.
Our schools used different strategies and tactics to increase student engagement, making the new and returning students all feel welcome and appreciated. It's great to see the students enjoy interacting with their friends and teachers for in-person learning!
Dixon Elementary - Running Clubs
Students at Dixon Elementary have been training for their cross-country running event on October 14th. Each year, the school has over 100 students and their parents participating in running activities including the Terry Fox Run, the Turkey Trot Run, the Pumpkin Run and the Sun Run. The school emphasizes the development of good running form and is always striving to improve the student's physical, mental, and personal well-being.
Gilmore Elementary – Learn in Nature!
At the beginning of the new school year students at Gilmore Elementary are spending more time in nature. Teachers are asking students to ponder the question "What does it mean to listen and care?" Students have explored different ways to listen to the needs of nature, and have found ways to care for other living beings. They are engaged in a variety of different topics during their outdoor classes, walking in the school garden, and exploring the wonders of nature.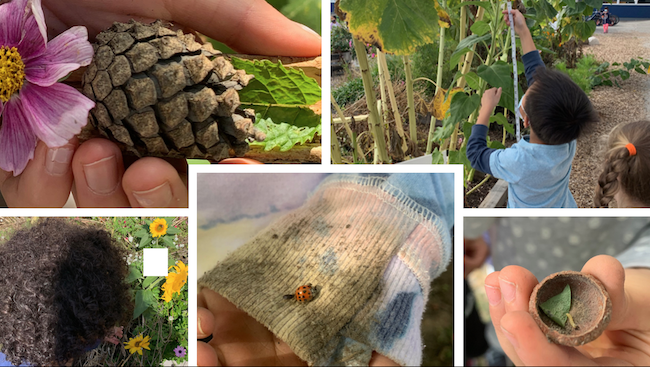 Spul'u'kwuks Elementary – Leadership Conference
The Grade 6 and 7 students at Spul'u'kwuks recently attended a leadership conference at their school.  During the conference, students discussed the concept of leadership, explored team-building activities, considered personal strengths and challenges, listened to speeches, and signed up for a variety of leadership opportunities at the school. As such, the coming school year will be filled with many opportunities for students and staff to learn in new ways and expand their leadership skills.
Terry Fox Run – Anything Is Possible If You Try!
With restrictions on in-person gatherings still in place, this year's Terry Fox Run is being held online on September 19. Students across the district will be taking part in this year's Terry Fox School running. Our school community believes very strongly in continuing the legacy of inspiring Canadian Terry Fox. All students in our district are proud to raise awareness and much-needed funds for cancer research.
Student Vote
Just prior to the recent federal election, over 700,000 students across Canada participated in Student Vote Canada. In Richmond, 33 schools and over 6,000 students participated. 
Students across the district participated in the vote for the Richmond Center federal candidate and political party of their choice. As part of ongoing discussions in many of the school classrooms, students have been engaged in the issues, the candidates, the political parties, and their platforms for the election. Through this experience, students learned how to choose to vote in elections once they are eligible in the future. 
National Day for Truth and Reconciliation
The government recently passed legislation to make September 30th a federal statutory holiday called the National Day for Truth and Reconciliation. As such, all schools in the Richmond School District will be closed on Thursday, September 30, 2021. 
This day provides an opportunity for all Canadians to recognize and commemorate the legacy of residential schools. This may present itself as a day of quiet reflection or participation in a community event.  Schools in our district will be engaged in a variety of activities leading up to September 30th to ensure that students understand the significance of this day in our community and in our nation.
At McNeely Elementary, students created Reconciliation Quilt to honor the children from Indigenous communities across Canada. All students participated in the project in different ways. The younger students at school contributed orange handprints. Many students created hearts with encouraging messages or promises. The intermediate students have translated the 94 Calls to Action in child-friendly language. The school hopes this project can inspire all people to become familiar with and demand action on the Truth and Reconciliation Commission's 94 Calls to Action.