Published:
Apr 29, 2021
Around the district is a monthly update that includes a collection of stories from Richmond schools. These stories highlight Richmond's vibrant learning community which fosters student engagement, creativity, and well-being in inclusive learning environments.
2021 Earth Day Activities 
Every year, schools throughout the district celebrate Earth Day with various activities related to making a difference. Recently, students learned about the district's commitment to environmental stewardship and engaged in projects related to our natural environment in Richmond. They created their own nature stories and poems with the hope to spread awareness. They made Earth Day buttons to inspire people to take action to help the earth. And they created Earth Day posters to showcase their commitment to our local environment.
Thank You Cards to Frontline Workers from McNair Secondary
Students at McNair Secondary recently sent out Thank You cards to LifeLabs employees, during the National Medical Laboratory Week (April 11 -17). Students of the school's social responsibility club wanted to express their appreciation to frontline workers for keeping our community safe.
After distributing the cards to over 6,000 LifeLabs' employees, the school soon received an email from LifeLabs which said "We are overwhelmed by the generous and thoughtful notes of appreciation. Our frontlines will be very grateful!"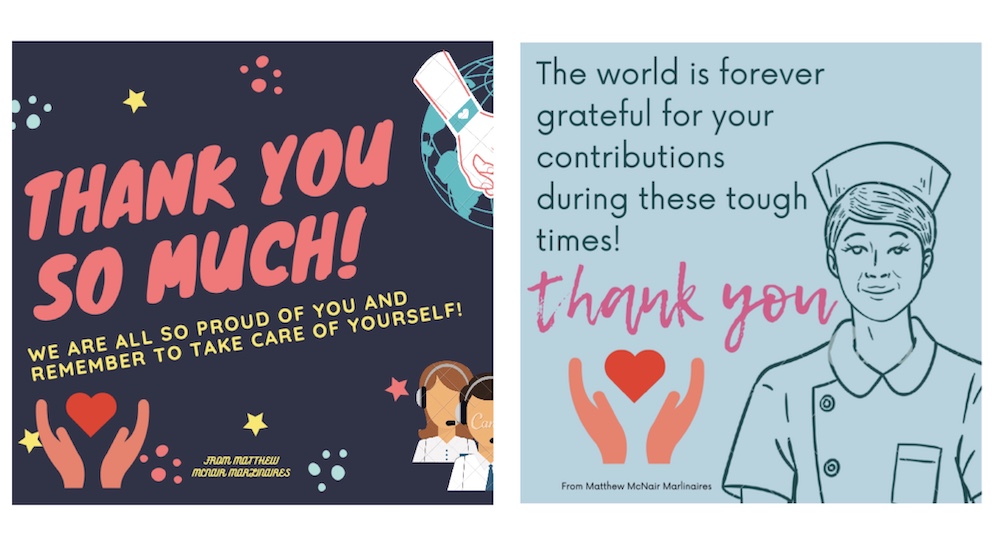 Bee Inquiry at Byng Elementary
Students at Byng Elementary recently started an Inquiry on Bees. Before getting into a lesson, the teacher inspired students to wonder about all the things they noticed about bees. A bee vocabulary wall was created to provide reference for class discussion and the students used tablets to document and post their learnings to their portfolios. This learning activity helped students making cross curricular connections by planning and conducting inquiries to find answers to their questions.
The Rights of a Child at Grauer Elementary
Students at Grauer Elementary recently studied the topic of well-being with a focus on Children's rights. After discussing the topic, students were asked to choose a symbol and design a stamp to represent one of the key concepts of the United Nations Rights of a Child. Using their self-designed stamp, the students created a poster that modeled repetition and emphasis.
Cherry Blossoms at McKinney Elementary
Students at McKinney Elementary recently enjoyed looking at all of the flower blossoms from the trees in their neighbourhood, both scientifically and artfully. Students explored various facts about the cherry blossoms and learned about the numerous festivals that occur around the world. Each student then observed the cherry blossoms closely and painted a picture using different materials. The beautiful art works were then displayed as banners to decorate the classroom.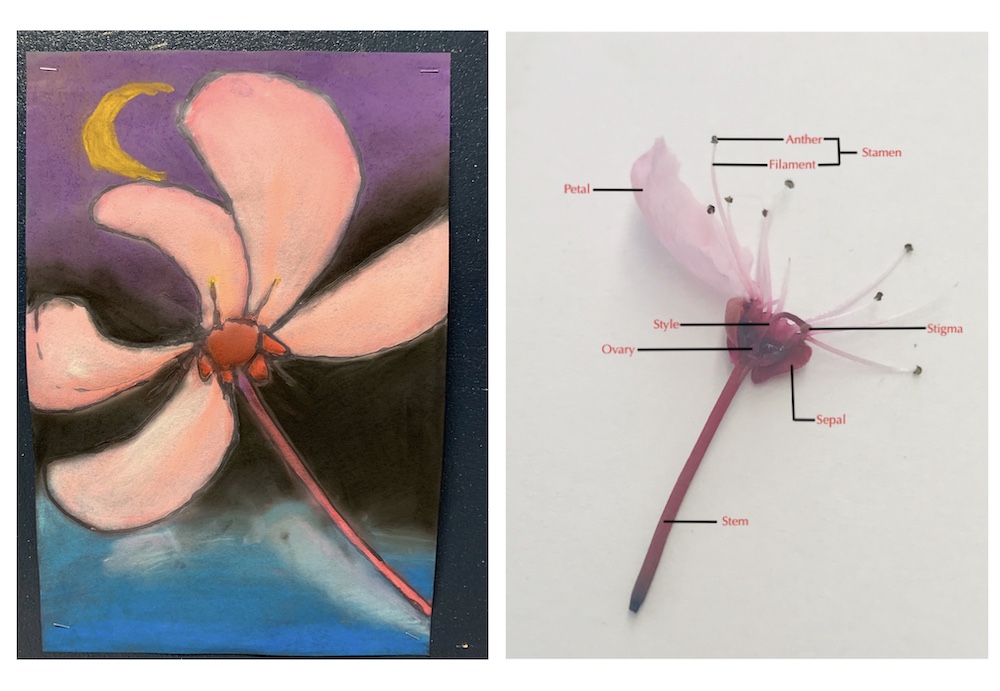 The Wellness Challenge at McMath Secondary
Earlier this month, students at McMath participated in a 10 day Social Emotional Learning and Wellness Challenge. Students began by looking into the question "What does social-emotional learning mean to you", and over the course of 10 days, they tried different activities to help improve their mental well-being.  At the end, students were asked to share one wellness activity that they had done for themselves, write it down on a post-it note and then place it on the Wellness Tree. The whole school was so excited to watch their tree blossom over the month of April with inspirations of wellness.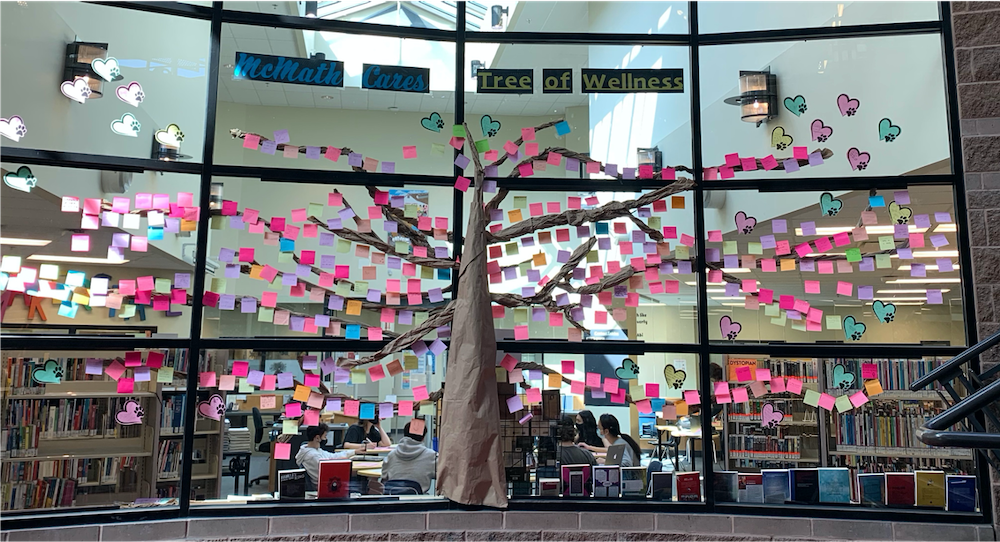 Sikh Heritage Month at Maple Lane Elementary
In celebration of Sikh heritage month, classes at Maple Lane listened to Let's Celebrate Vaisakhi and The Many Colours of Harpreet Singh - both of these books emphasize the importance of belonging.  After listening to the stories, students were able to embrace the beauty and uniqueness of their own culture, as well as others.  This is a great example of the many positive diversity activities that we know are happening around the district every day.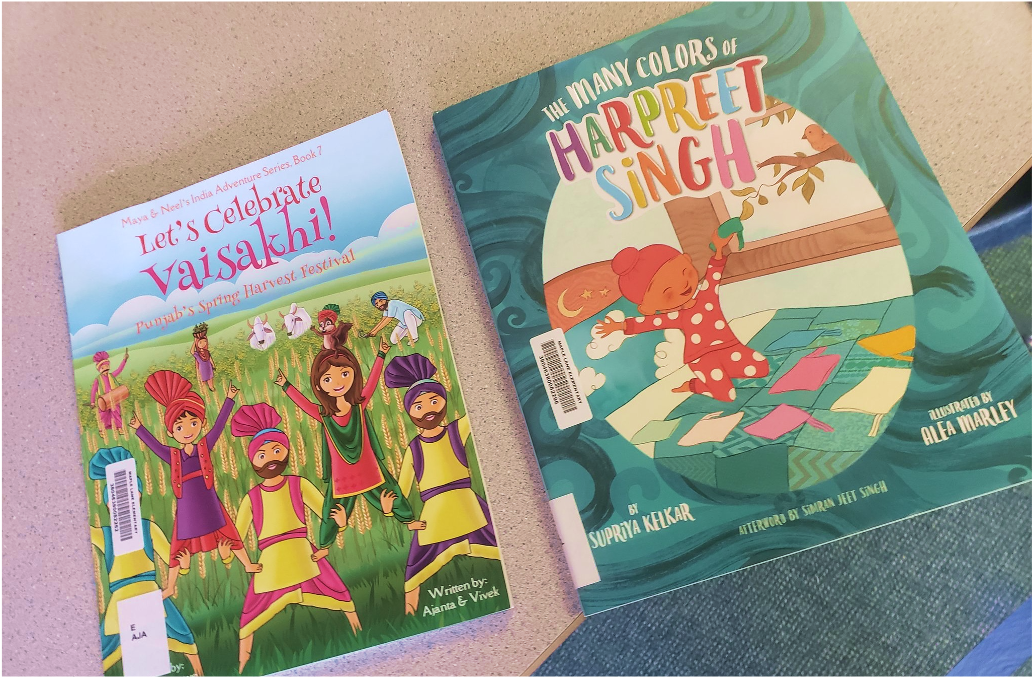 Outdoor Learning Space at Diefenbaker Elementary
Diefenbaker Elementary students recently planned and designed garden signs for their community garden. The students first brainstormed and decided what was needed, and then worked together to design and paint the signs. The students were excited to be able to contribute to their community with the signs and look forward to playing in the garden.
Reading and Writing at Gilmore Elementary
Students at Gilmore Elementary have been focusing on reading and writing across all curricular areas. Inspired by the flower blossoms, students wrote poems about Spring. This learning process helped students to gain a deeper understanding of the connection between reading and writing.
We Are Connected at Richmond Secondary
Students at Richmond Secondary felt fortunate to work with Indigenous artist Christine MacKenzie to create a 16ft mixed media mural. The theme for the mural is Connections and Unity: between cultures, community and mother earth. The image is a combination of Indigenous Northwest Coast Formline imagery and plain painting style. The combination of styles symbolizes the idea of unity and harmony between the First Peoples and the settler communities. Students worked collaboratively to stain, wood burn, and paint the images. This project was extremely rewarding and fostered a deep sense of community between the students, the artist, and their teacher.