Published:
Mar 31, 2021
Around the district is a monthly update that includes a collection of stories from Richmond schools. These stories highlight Richmond's vibrant learning community which fosters student engagement, creativity, and well-being in inclusive learning environments.
Student Art Displays at the School Board Office
From the main floor to the fourth floor, the school board office has been filled with a wonderful collection of student art. These amazing art pieces provide a welcoming look to the building and provide staff and visitors with a connection to our schools.
At the beginning of the year, all schools were invited to submit one piece of student artwork to be displayed in the board office. Students used various materials and art mediums to express themselves and their personal styles. These art pieces represent different schools and grades, and are great examples of our district's arts education!
Comic-Con at Westwind Elementary
Recently, students and staff at Westwind Elementary worked together to come up with original stories and characters to star in their very own original comics. After ten weeks of mini-lessons, drafts, proposal presentations, and logo designs, the students came together at the Westwind Comic-Convention.
On the day of the convention, classes from the same cohort interacted and shared their work with each other. Completed comics were turned into photocopied booklets for all students to read and enjoy. During their comic journey, students celebrated learning and the joy of creativity. They also learned a variety of skills and attitudes like perseverance, patience, gratitude towards peers, family members and teachers.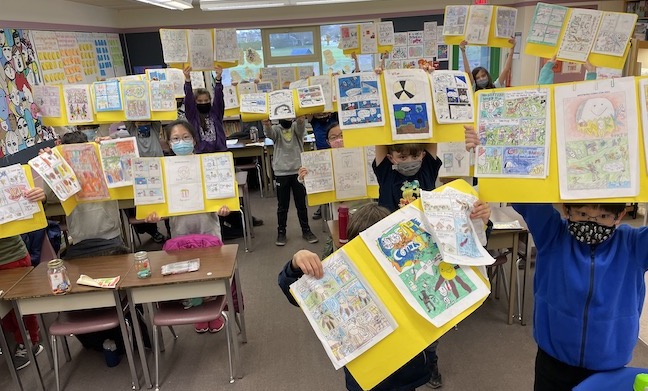 The Tower Garden at Samuel Brighouse Elementary
Students and staff at Brighouse Elementary have been busy growing vegetables and herbs in their Tower Garden! The school's Eco-Blazer gardeners set up the Tower Garden and planted arugula, basil, Swiss chard, bok-choy, dino kale and different varieties of lettuce. With this amazing vertical aeroponic growing system, students have been able to grow up to 28 vegetables and herbs in less than three square feet of space. The whole school is eagerly watching all of the vegetables and herbs grow and can't wait to harvest the freshly grown produce in the spring!
Fill A Bucket at Mitchell Elementary
Students at Mitchell Elementary created an art project called "Fill A Bucket" to demonstrate how they could show kindness to others. Students were invited to read the book Have You Filled A Bucket Today? written by Carol McCloud. The characters in the book all have invisible buckets on their heads that fill up when others show them gratitude and care. After hearing the story, each student drew their own magical bucket. They then wrote down an example of how they could be kind and pasted it on top of their bucket. This activity sparked great discussions in the class, and students learned how to relate to the message in this book and make connections to their daily lives.
Zen Garden City
With the support of a district innovation grant, students at Garden City Elementary recently built a Zen Garden for their school. The school's teacher-librarian purchased 100kg of sand and river stones from a local garden shop and the students worked together to transport the material to the courtyard. Students then created a Zen garden using sand, stone and mini rakes. Each student gardener was so proud of their contribution to the collective effort in building this wonderful outdoor space for learning and relaxing. The school is very excited to open the Zen Garden for everyone to read, rake, catch some sunshine and watch the garden grow in the Spring! This activity helped students develop their core competencies around mindfulness and connecting to the local environment.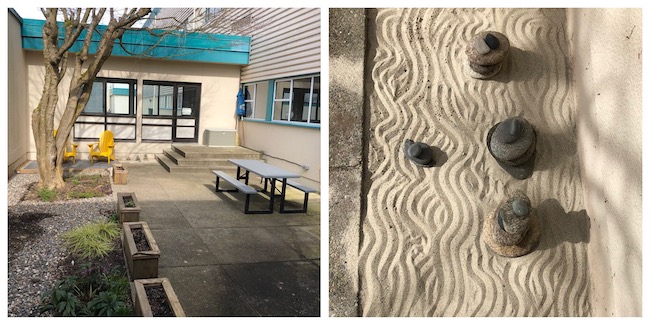 Grad Mural at Steveston-London
Due to the Covid-19 pandemic, a group of students in our district is trying to come up with creative ways to celebrate their grad milestone. One such student created a mural to capture the graduating students' freedom and optimism for the future. The student's painting shows athletes sprinting to the finish line of a race with their masks flying in the air with a backdrop of Steveston-London secondary. The mural, which includes the signatures of the graduating class, has been hung in the foyer of the school and is intended to capture a small portion of the optimistic drive that defines the grads of 2021.
McRoberts Students Bring Happiness and Cheer to Local Seniors
Students from McRoberts secondary recently donated flowers and handmade cards to seniors at Gilmore Gardens Retirement Residence. The students first launched an Easter-themed chocolate fundraiser to raise money for this initiative, and then used the proceeds from the fundraiser to purchase 93 potted-flowers. The students then made greeting cards and delivered both the cards and the flowers to the retirement residence. Through this experience, students learned that everyone can be a contributing member by giving back to the community and bringing joy to others.