Published:
Nov 30, 2020
Around the district is a monthly update that includes a collection of stories from Richmond schools. These stories highlight Richmond's vibrant learning community with examples of student engagement, creativity, and inclusive learning environments.
Making Connections at Byng
Teachers from Byng Elementary have been exploring 'Connection' through the lens of inquiry with their K-1 class. Students are making cross curricular connections from science, social studies and English Language Arts. Interwoven in this exploration are the First Peoples Principles of Learning.
Students first explored bears and salmon and how they are connected to the Fraser River. Students spent an entire day engaged with storytelling and building context to their knowledge. At the end of the day, students did an audio self-reflection on their e-portfolios to share their experience.
Arts Umbrella Van Goh at Blundell Elementary
Since 1988, the Arts Umbrella Van Goh and Stage Coach programs have provided free visual arts and theatre workshops to Metro Vancouver elementary schools. This year, Blundell Elementary was provided with six visual art sessions, where four different artists shared their expertise with students. It was a wonderful experience and the students were very engaged.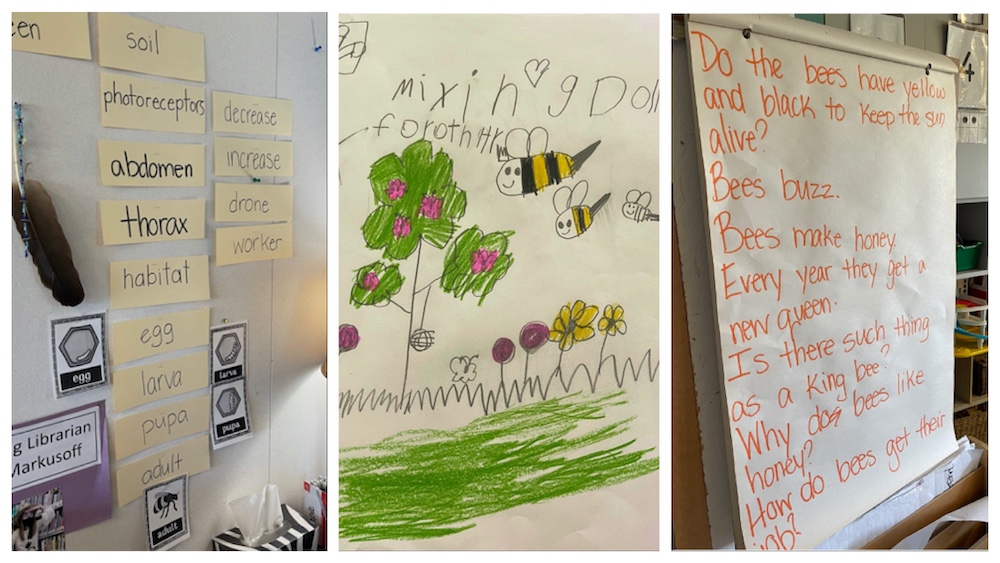 Arts Education at Maple Lane
Division 5 and 6 students at Maple Lane Elementary created a mural based on the book The Elders Are Watching, written by award-winning writer David Bouchard and First Nations artist Roy Henry Vickers. Students worked on this for several weeks and were taught that learning supports the well-being of the self, the family, the community, the land, the spirits, and the ancestors'. The mural that was created represents the students promise of change and depicts their hands reaching upwards through the stars and to our elders.
Blair Elementary Student Supports Richmond Hospital Foundation
Kylie C, a student from Blair Elementary was recently honoured and recognized by the Richmond Hospital Foundation for her donation of $500. Kylie spent the last six months making her own soap and selling it at Garry Point Park. Kylie made the donation to show her appreciation for health-care professionals.
Richmond Secondary Spelling Bee Champion
Grade 10 Richmond Secondary student Jason C has won the Spelling Bee of Canada's BC provincial championship. Jason studied fastidiously and was shocked and excited when he learned he won the Spelling Bee of Canada's B.C. competition with the final words "chupacabra" and "isomorph."
The Spelling Bee of Canada is an educational organization that encourages youth, parents, teachers and the community at large to participate in the education process and celebrate academic achievement. Jason will be participating in the national championship at the end of November.
Premier's Holiday Greeting Card Project
With the holiday season just around the corner, BC Premier, John Horgan, invited elementary students in our district to submit a design for a festive greeting card that he will send out over the holiday season.
Students from Homma, Brighouse, Byng , Maple Lane Blair and Anderson Elementary submitted 20 designs this year. Hopefully one of our student's submissions will be chosen and become the Premier's Winter Holiday Card for distribution this year!
Connecting to the Outdoors at Gilmore
Teachers at Gilmore recently spent time with their students on outdoor nature walks so that they could take a closer look at their natural environment. When the students discovered a collection of amanita mushrooms and wanted to learn more about them, the teacher used their curiosity to explore stories about mushrooms. The students then made connections between the books and their observations and then practiced communicating their thinking through art and in their writing. A great example of outdoor learning during the pandemic.
K-7 Transitional Learning: Mathematics
On September 21, elementary teachers began supporting several thousand students learning from home in the Transitional Learning" program. For mathematics, each week students are provided with a weekly plan of five tasks, a math game for practice, some math books to read online and a math and science project. Students attend a grade level webinar and parents attend a support webinar as well. School-based teachers also meet with the students from their school in Zoom meetings to provide instruction and support. In the last month teachers have been focusing on patterns, number operations, graphing and probability.
Outdoor Classroom Day
Outdoor Classroom Day is celebrated twice a year around the world. This fall, it was held on November 5. Students from Grauer spent time outdoors estimating and counting fallen leaves, connecting and measuring leaves, and representing fractions and ratios with leaves.